 Helpical Ticketing Software System
Helpical is a ticketing, helpdesk and issue tracking system which makes all kinds of SMBs and Enterprises able to manage, track, and respond to internal and external issues.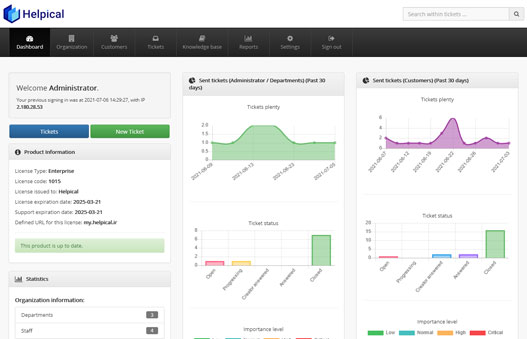 Helpical Ticketing Software System
Spreadsheet of data on different media makes many difficulties to use them in an appropriate way. Imagine your company while it is receiving support requests via phone calls, emails, internet messengers, etc. Your data in this way is not collected in a centralized database. Therefore, you as the owner or manager of that company, and your staff as those who should response to such requests have a big issue on reaching to that requests. On the other hand, many of other problems will happen when you have not a centralized and online mechanism to manage, control, and response to requests.
Helpical Ticketing Software System is a suitable solution to solve what we have talked above. You can use this application as a helpdesk, issue tracking and even a CRM platform to manage all your internal and external issue among staff or customers. In addition, using gathered data, you are able to make the best decisions for your organization based on the real data and analysis.
We invite you to check the product website at www.helpical.com to know more about its features, clients, etc.
---